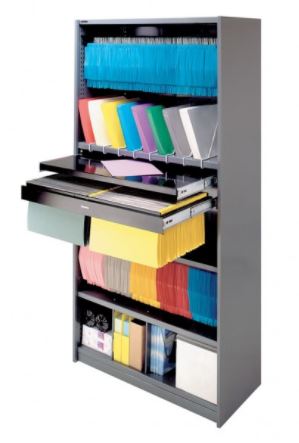 Brownbuilt Commercial Shelving is the perfect answer for any type of office with restricted space and has been developed to compliment modern efficient records management and storage systems.
Commercial Shelving combines the strength and durability of Light Duty RUT shelving with aesthetics and versatility to enhance modern office designs. Metal cover panels ensure a clean, attractive finish to the ends of shelving stacks.
Durable thermo-set powder coat finishes are used for all components, which are more scratch resistant than baked enamel. A wide range of standard contemporary colours allow Commercial Shelving to be integrated into most office environments.
Limited space? Brownbuilt commercial shelving is compatible with our smart CompakMax compacting storage systems.
Standard Features:
Solid metal back panel
Metal upright cover panels
16mm diameter rolled post
25mm vertical shelf adjustment
Shelves pre-punched for divider plates
Magiclip shelf retention system
Wide range of storage and filing accessories
5 Year Warranty