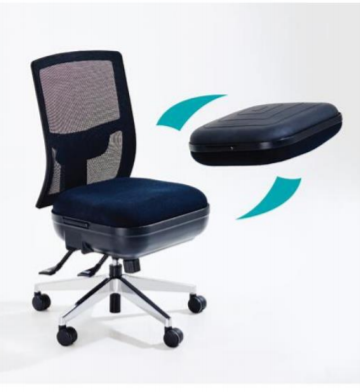 Latest Australian Innovation in Ergonomic Active Seating 2 Seats in 1 Active Office Chair
Business I Government I Healthcare I Education I Home Office
• APA Endorsement
• TGA Approved
• 10 Year Warranty
• Australian Made
• GST Exempt
MAKING SITTING AN ACTIVITY
Sitting inactive at our desk for extended hours is killing our bodies! Standing is not the only solution. We know by an overwhelming support of clinical evidence movement is the answer and prevention to muscular tension and pain.
While at your desk, flip from a conventional cushion to activate your body on the unstable surface that boasts the health benefits of a fit ball to promote:
• Movement
• Core and back strength
• Blood Flow
• Release spinal load
• Better posture
• Energy Expenditure
Specifications
The ErgoFlip's chair mechanisms provide a full range of adjustments height to suit particular tasks and individual needs. All mechanisms have B h aceight adjustment been selected after hours of continuous testing. All ErgoFlip® mechanisms are fitted with premium quality pneumatic height adjustable gas lifts which meet the highest Australian standard -Class 4. Relevant mechanisms and other components have been independently tested to ASNZS 4438:1997 by Furntech-AFRDI.
Comfortable and sturdy
Upholstered Cushion in Black Fabric
Ergonomic design with adjustable lumbar support
Ultra durable, breathable and flexible mesh
Height adjustable gas lift to suit various body heights
Chair back and seat angle can be free floating or lockable
Break-Out Active Cushion
Ready for use, comes inflated
Non-slip surface
Highly durable
Water resistant and easy to clean using wet wipes or damp cloth
Dimensions
Seat – W 490mm x D 470mm
Seat Height – 420mm – 550mm
Back – W 450mm x H 500mm
Chair Load Capacity – 135 KGS
Description
ErgoFlip proudly partnered with Australian national manufacturer Chair Solutions, accredited ISO-9001, mechanisms and components tested to comply to Australian Government workplace environment.