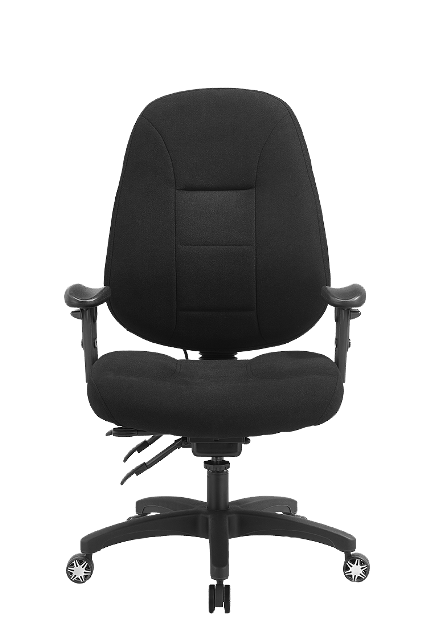 Product Information
This premium Ergonomic Manager chair from ErgoRap® offers plenty of room for heathy, dynamic sitting thanks to their ergonomic, tilt adjustable seats and high backrest with individually adjustable contact pressure.
Comfort cushion-exclusive to EM-3. This extra thick seat allows the user greater comfort for long term seating and reduces pressure on the base of the spine.
Fully independent adjustment-all ErgoRap® chairs feature independent adjustment. This means no shared functions on levers. This allows great control over adjustment made to the chair and allows the use to customise the setting to a greater degree.
Fabrics-Em-3 come in a selection of stylish fabric including black, char-coal and suede navy or custom made colours are an option.
Technical Information
High Denslty F R Foam used in the seat and backrest.
Seat Dimensionsn Width:535mm, Depth:520mm
Seat Tilt & knee Tilt
Seat Silder 0-90mm
Backrest Dimension Width:520mm, Height:500mm. Adjustable ratchet back 80mm.
Backrest Tilt.
Height adjustment.
Hard Plastic Five-stra base, with conductive dual castorl(60mm)
Manufactured according to (AS/NZS 4438-Heght adjustable chairs) Utilising BIFMA certified components.
5 years warranty