Two Door Locker – 300/380 Wide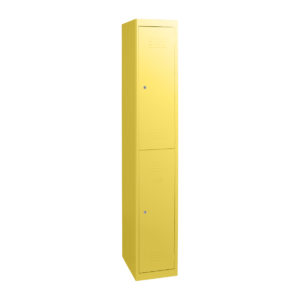 Statewide lockers are manufactured in Australia and have a lifetime warranty, meaning you can be assured of their quality, durability and after sales support. All our lockers are fully welded to ensure the highest level of strength. Single door lockers, two door and three door lockers include internal door stiffeners to increase strength and reduce the potential for flexing.
Don't want just one colour? Multi-colouring is available to really set your workplace apart!
Secure single point lock mechanism
Additional locking systems available
Single piece wrap around steel body
Durable powder coat finish
Ventilated doors
Hanging rail
Side fitted coat hooks
Lifetime warranty

Description

Manufactured by Statewide Office Furniture in our Sydney Factory

Warranty: Lifetime

Estimated Lead Times:

Sydney: 10 Business Days + delivery

Melbourne: 20 Business Days + delivery

Brisbane: 20 Business Days + delivery

Lead times will be shorter on stock items, call for confirmation before placing your order

Specifications

Essential Body Dimensions (And Other Available Models)

| | | | | |
| --- | --- | --- | --- | --- |
| Product Code | Description | Height (mm) | Width (mm) | Depth (mm) |
| SL1 / SLW1 | Single door locker | 1800 | 300/380 | 450 |
| SL2 / SLW2 | 2 door locker | 1800 | 300/380 | 450 |
| SL3 / SLW3 | 3 door locker | 1800 | 300/380 | 450 |
| SL4 / SLW4 | 4 door locker | 1800 | 300/380 | 450 |
| SL5 / SLW5 | 5 door locker | 1800 | 300/380 | 450 |
| SL6 / SLW6 | 6 door locker | 1800 | 300/380 | 450 |
| SL8 / SLW8 | 8 door locker | 1800 | 300/380 | 450 |
| SL10 / SLW10 | 10 door locker | 1800 | 300/380 | 450 |
| SL12 / SLW12 | 12 door locker | 1800 | 300/380 | 450 |

Construction Materials

Material: Body is fully welded galvanised Bluescope Steel (100% recyclable).

Colours

Total range includes 14 colours, all of which are the same cost.

Standard Colours:

White, White Birch, Wedgewood, Burgundy, Light Grey, Charcoal, Wild Oats (Beige), Precious Silver Pearl.

Textured Colours:

Black Ripple, Graphite Ripple.

Energy Colours:

Signal Red, Lemon Yellow, Orange X15, Blaze Blue