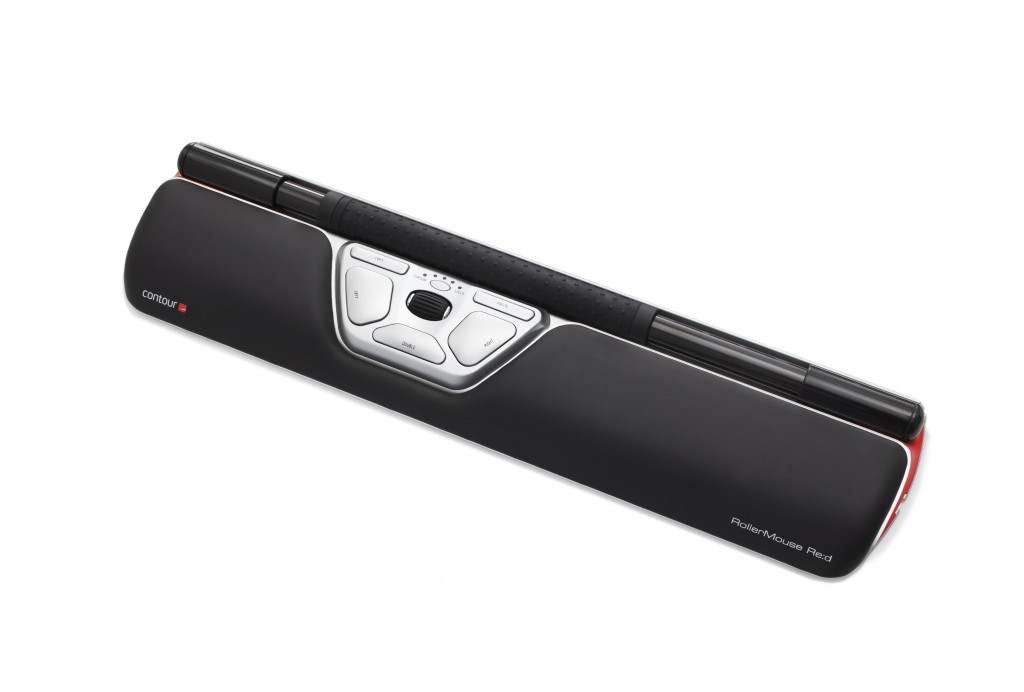 Work never felt so good
Experience unrivalled comfort, control, and pinpoint accuracy with RollerMouse Red, an innovative, ergonomic mouse that sits in front of a keyboard. RollerMouse Red allows users to stay within their optimal work zone with relaxed hands and a neutral wrist posture, eliminating the need to grip or reach for the mouse.
Prevents pain in the shoulder, neck, and elbows caused from RSI.
RollerMouse Red is the premier model in the family of RollerMouse products. It features a larger rollerbar than its predecessors, and a left click that has been virtualised to minimise impact on fingertips while providing unrivaled precision.
RollerMouse Red is best suited for users with small to average sized hands, adding the RollerMouse Red Plus will accommodate the users with larger hands.
Click below to view and move a 3D model of the RollerMouse Red.
No strings attached
The RollerMouse Red is now available in wired and wireless.
RollerMouse Red Wireless is everything you love about the award winning RollerMouse Red and more, with ten cursor speed selections, improved digital click for an even more natural feel, extended bar length and a long lasting battery.
Key features
8key functions:

Rollerbar for cursor movement
Dedicated Copy button
Dedicated Paste button
Left click
Right click
One touch double click
Cursor speed adjustment
Scroll wheel

Rollerbar has extra padding for additional comfort and control
Keyboard risers to customise the height and angle of keyboard
Integrated and detachable wrist rest designed to keep your hands, wrists, and forearms flat
USB Plug and Play installation and connection
An optical sensor detects the cursor movement, making it easier to move the cursor
Click Force Adjustment allows for the adjustment of the amount of pressure required to perform a mouse click
Click Volume Adjustment
Additional wrist support available with the RollerMouse Red Plus accessory
Key functions
Rollerbar. Roll the bar up, down, and sideways to move the cursor. Use both hands for better variation and flexibility with the fully open rollerbar
Cursor speed adjustment. Quick and easy speed selection. Get high precision with a click. Choose between five cursor speeds ranging from 800 dpi to 2400 dpi.
Copy. The 'one touch' copy button.
Paste. The 'one touch' paste button.
Left Click. Use the large left button to left click.
Right Click. Use the large right button to right click.
Scroll wheel. A new, wider, rubber coated scroll wheel makes the click function even easier and smoother. Move up and down, middle click and auto-scroll lock.
"One touch" Double click. Get two clicks in one with the 'one touch' double click.
Specifications
Wired
Wireless
Cursor speed Precision (dpi)
 800/1000/1200/1600/2400
600/800/1000/1200/1400/1600/1800/2000/2200/2400
Connection
USB Cable
Wireless USB Receiver/Charging Cable
Width
 40cm
40cm
Height
2.2cm
2.2cm
Depth
10cm
10cm
Rollerbar accessibility
28cm
28cm
Installation
Plug & Play
Plug & Play
Driver
Not required
Not required