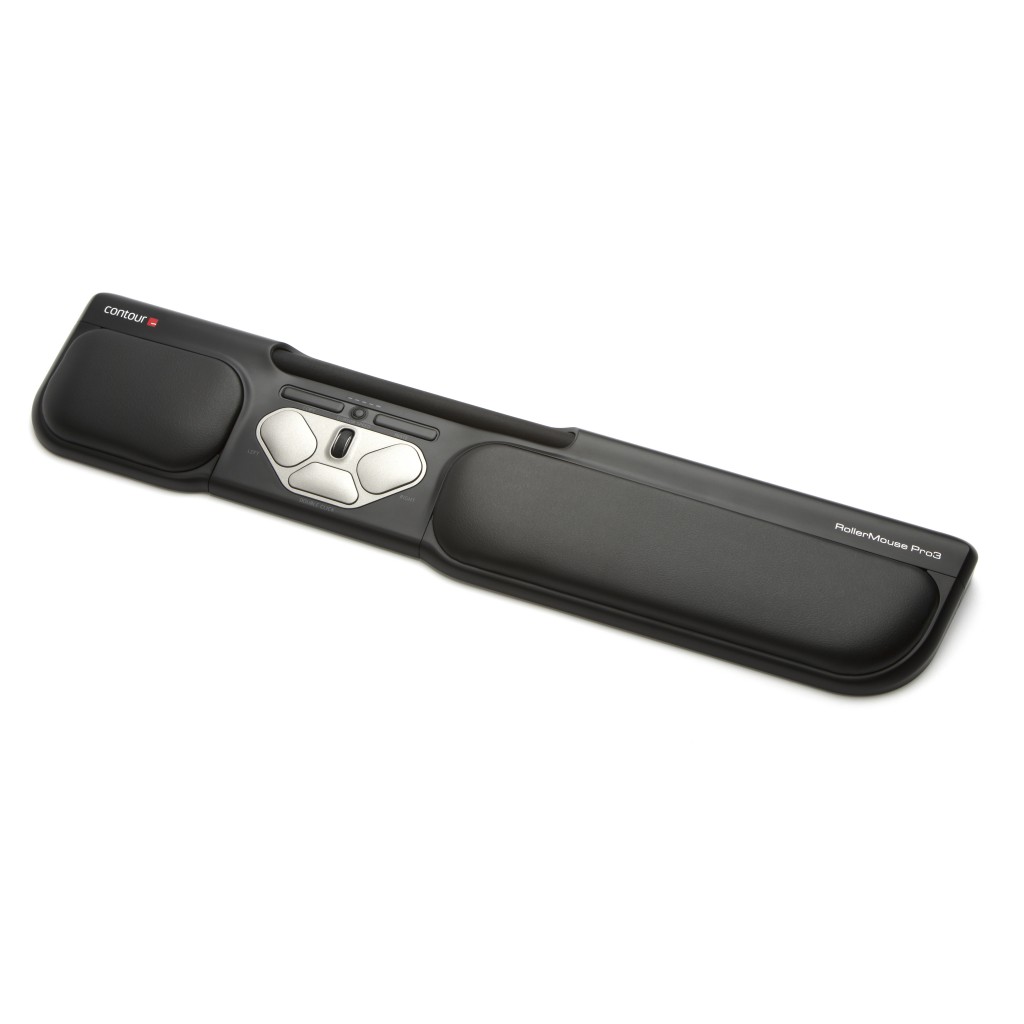 Improved comfort and control
A modern update of the Pro2, the RollerMouse Pro3 has been developed for demanding tasks that require repetitive movements.
Pro3 is a great option for professionals and anyone else who uses a mouse for long periods every day.
Positioned below the keyboard, Pro3 eliminates the need to reach for the mouse, lessening stress from your neck to your fingers.
The width of this RollerMouse makes it especially suitable for standard or full-size keyboards for comfortable typing. Rollermouse Pro3 allows you to work faster, and more comfortably.
A new look and feel
A sturdier, aluminium base reduces risk of slipping and provides more durability. Premium leatherette padding runs the full length of the unit, offering extra wrist support.
The scroll wheel has a seamless glide up, down and across the page.
Keyboard risers can be inserted at the back of the unit to provide height and create an ideal transition between keyboard and RollerMouse.
A slider switch on the bottom of the unit is used to adjust the click force.
Personalised features
Five centrally-located buttons come pre-programmed to perform everyday, common mouse functions including copy, paste and a 'one-touch' double-click; these buttons can be customised to perform shortcuts.
The cursor speed, scroll wheel and rollerbar can also be customised.
The cursor speed button allows users to choose from ten speeds, coloured lights indicate the current speed selection.
Key features
Rollerbar. Roll the bar up, down and sideways to move the cursor. Press the bar down to left click.
Extra leatherette padding for superior wrist comfort.
5 pre-programmed button functions.
Cursor speed adjustment. Ranges from 600 to 2400 dpi.
Specifications
| | |
| --- | --- |
| Width | 488mm |
| Depth | 99mm |
| Height | 29mm |
| Rollerbar width | 167mm |
| Rollerbar clickable | Yes |
| Adjustable bar click force | Yes |
| Sensor type | Optic |
| DPI | 600-2400 |
| Number of buttons | 8 (includes scroll wheel and rollerbar) |
| Operating system | Mac OS, Windows |
| Plug & Play | Yes |