ENEO UNDER DESK KEYBOARD TRAY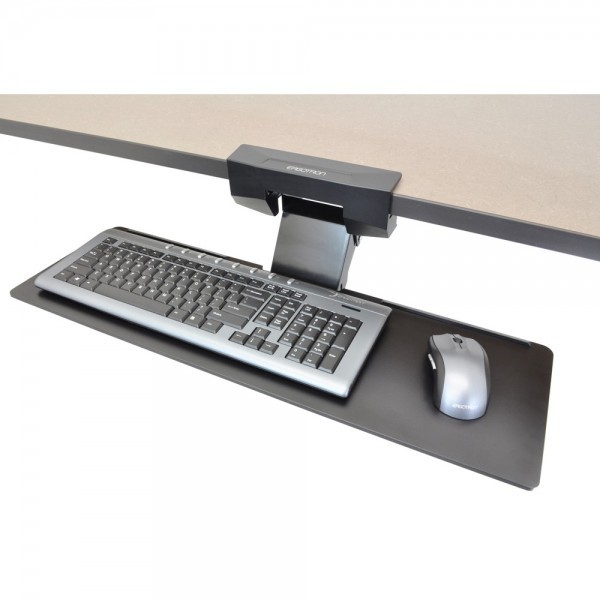 keyboard trays are fast becoming a must have ergonomic product. For years people have been using keyboards on the desk surface, not knowing that the typical desk height hasn't changed since people transitioned from hand writing based work to keyboard based work. To have the ability to adjust an individuals keyboard and mousing height can make the world of difference.
The Neo-Flex Underdesk keyboard tray / arm from Ergotron provides a wide range of adjustment to suit individuals. With tilt range of 15 degrees and 1.4 kg weight limit, this tray will suit most keyboard and mouse sizes.
The Neo-Flex keyboard tray is also easy to install, it clamps directly to the front edge of your desk. If you prefer it to be hidden, simply remove the clamp and attach to the underside of your desk with four screws. The Ball bearing slides produce a smooth movement to slide the tray out from under the desk and to slide it back when not in use.
The durable build quality will even suit the most heavy handed typists.
684mm Wide Platform
226mm Deep Platform
Slides out 273mm
Can go as low as 152mm below work surface
15 degrees of angle adjustment
desk edge clamp or underside of desk surface mount
SPECIFICATIONS
684mm Wide Platform
226mm Deep Platform
Slides out 273mm
15 Degrees Angle Adjustment