EKin Triple Action Footswitch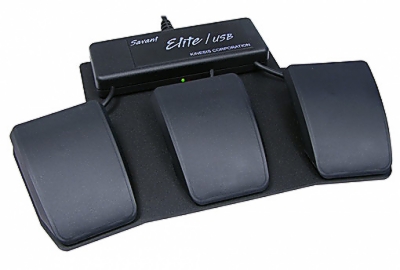 Description
The Kinesis Triple Action Footswitch pedals are programmed to replicate the clicking action of the mouse.
For many users the pain associated with mousing is from the action of clicking, not from moving the mouse. The Kinesis resolves this problem by relocating the clicking action to the user's feet.
Features
Three angled adjustable pedals
Factory configured to perform mouse button actions
Pedals are front-hinged and rounded for easy triggering, made from black, glass-reinforced nylon
Low profile design, combined with heavy steel base prevents unit from accidentally moving on the floor
The outer pedals are re-programmable to perform keyboard actions, macros, or to re-assign mouse button actions
External status LEDs. Recessed programming switch accessible from underside of unit
Plug & Play
Main cable is 3 metres
Operating Systems
Windows 98, 2000, XP, Vista, 7 (32 bit only)
 Available USB port. Uses generic drivers provided by the operating system
Re-programming driver available on the Support Downloads section of our web site for Windows 98, 98se, ME, 2000, XP, Vista & 7. Driver not compatible with 64 bit versions of XP, Vista and 7
Only Windows 2000, XP, Vista & 7 offer full functionality of mouse clicks
Requires available USB port. Uses generic drivers provided by the operating system (OS 8.6 – 10.X)
Only OS X offers full functionality of left and right mouse clicks. Middle mouse button not supported on Macintosh without using a third party driver such as that found at www.usboverdrive.com
Note: Modifier actions from one USB device cannot modify the input of a second USB device due to limitations designed into the Apple operating system.
Example: Shift, Control, Command, or Option keystrokes programmed into the footswitch cannot modify the input of a separate USB keyboard or mouse. However, a key sequence like 'Cmd-W' or 'Cmd-Shift-left arrow' will work on a Macintosh if the entire sequence of keystrokes has been pre-programmed into the footswitch. (Footswitch can only be programmed on a Windows PC).
Dimensions
Width: 269mm
Height: 30mm
Depth: 178mm
Colour
Black