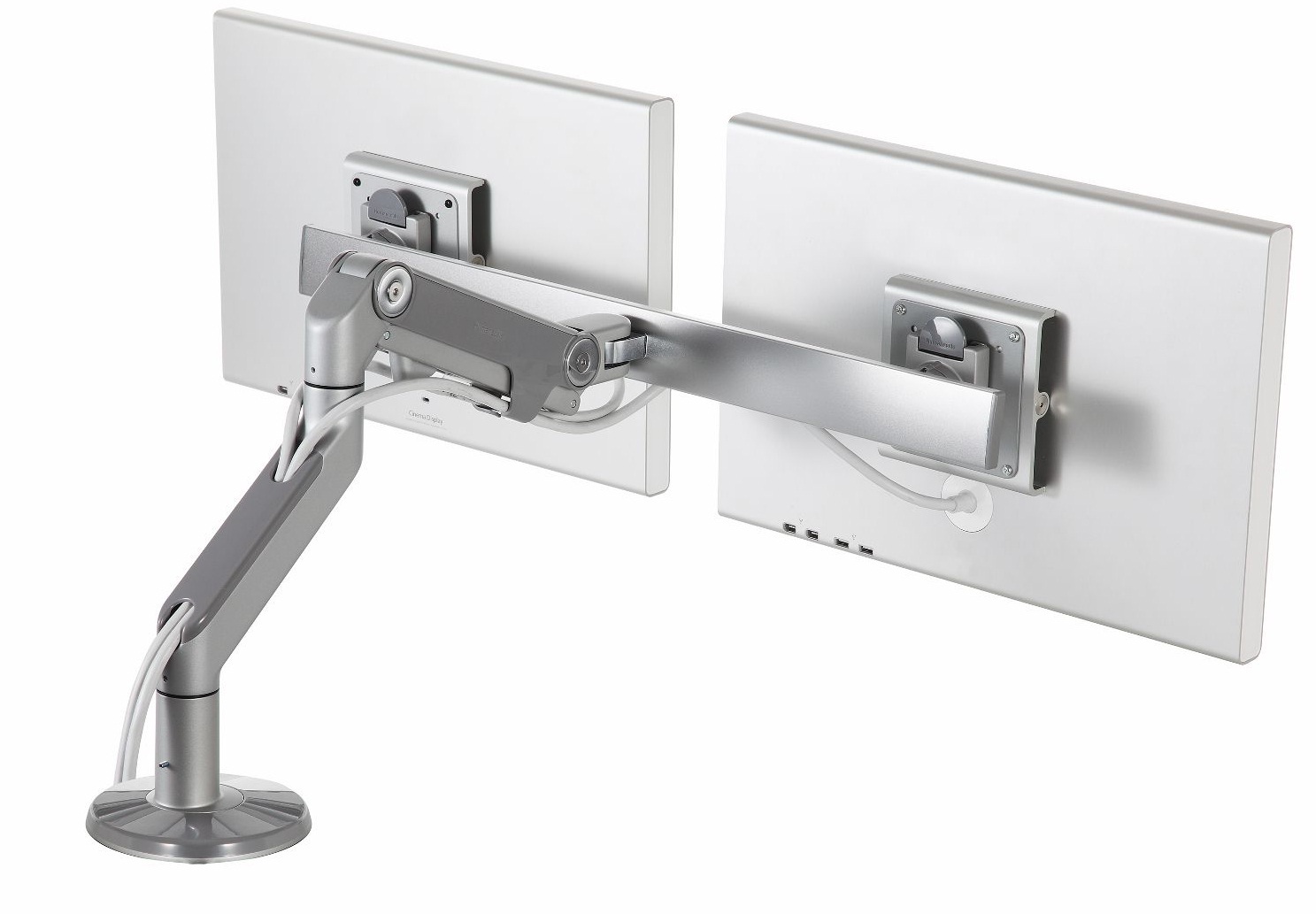 ARM REACH: 560MM
HEIGHT ADJUSTMENT RANGE: 290MM
MODULAR DESIGN
DESK CLAMP
The M8 Dual Monitor Arm with Crossbar easily accommodates two large monitors, each weighing up to 9 kg.
560mm Reach
290mm Height Adjustment Range
10 Year Warranty
180 Degree Stop Mechanism Included
The generous weight capacity of 18 kg teamed with the sleek, slim profile makes the M8 Monitor Arm stand out above the rest. The M8 series accomodates the widest range of todays available monitors, it will suit virtually any monitor set up of single or dual configuration up to 18 kg. This high weight capacity does not restrict the use of this arm, it's 360 degree rotation and 90 degrees of horiztonal and vertical adjustment ensure an extremely wide range of easily adustable options.
The side by side configuration of the M8 Dual Monitor Arm with Crossbar keep your monitors almost direclty side by side to prevent any inbalances in height and depth adjustment on dual monitor set ups. The user then also has the option of using the Fine-Tune Adjustor to enable perfect independent adjustment / alignment.
Like the M2 Monitor Arm, the M8 series is so durable that it boasts a 10 year warranty.
Features
Built-in security system provides effective theft-detterent for all areas
Quick release ball joint provides fast and easy installation and removal
Fine monitor Adjustment allow dual monitors to line up perfectly
180 degree stop mechanism prevents walls and partitions from being damaged (can be removed to allow 360 degree rotation)
Integrated cable amangemet reduces clutter and adds to aesthetics
Specifications
Accomodates total monitor weight up to 18kg
Arm Reach: 560mm
Height adjustment range: 290mm
180 or 360 degree full rotation
Portrait and landscape view for monitors
Desk clamp and bolt through option available
made from 62% recycled goods and is 99% recyclable
10 Year Warranty
VESA Compliant
Monitor arm Suits Curved Monitor
Standard finish in stock: Polished Aluminium with White accents.
Special order finishes: Silver with Grey accents or Black with Black accents.