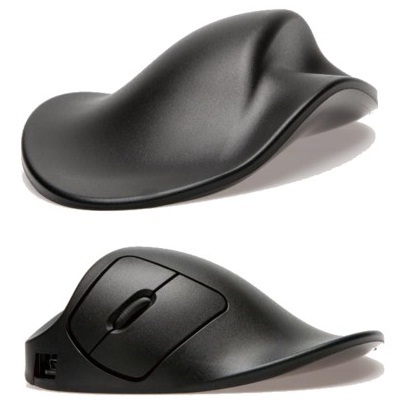 SUITS HAND LENGTH FROM 180-200MM
MEDIUM LEFT HAND MOUSE
RECHARGEABLE BATTERY VIA USB CORD
WIRELESS
The Large Left HandshoeMouse combines state of the art design with usability.
Suits hand length from 180 – 200mm
Wireless
Rechargeable
The only mouse that fits like a glove. The HandshoeMouse combines state of the art design with usability. Instead of using your hand and wrist, your arm lets the optical HandshoeMouse float without any effort. Just plug and play, no Mac or PC drivers needed!
Connection
USB 1.1, USB Type-B connector on mouse. Battery is charged by means of USB cable.
Controls
2 buttons at ergonomic position and scroll wheel.
Mechanism
BlueRay Track: 1000 dpi.
Systems
Windows 95, 98, 2000, NT, XP, Vista or 7 Mac OS 9 or Mac OS X Unix
Which Size?
Measure on the inside of the stretched out hand, distance from wrist up to the top of the ring finger. This length provides an indication of the required size.
• Length up to around 180mm: Small
• Length from around 180 to 200mm Medium
• Length of 200mm and above: Large
Research
The objective of the development was to realise a contour which allows for a relaxed hand position. The resulting shape of the HandshoeMouse fully supports the hand. Only a minor contraction of the muscles of the fingers is required to operate the switches and scroll wheel. Arms and hands remain in a relaxed postion. This is contrary to a conventional computer mouse which requires continuous lifting of the fingers and thus muscle action.