EGOL WIRELESS SEMI-VERTICAL MOUSE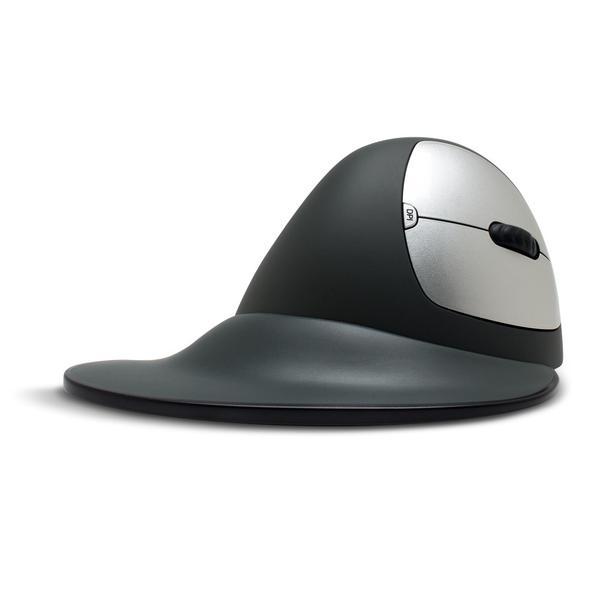 WIRELESS SEMI-VERTICAL MOUSE – 66 DEGREE ANGLE
109.5MM LONG
79MM WIDE
82.5MM
The Wireless Semi-Vertical mouse bridges the gap between a full 90 degree vertical mouse and a standard ergonomic mouse.
109.5mm Long (162mm With Flange)
79mm Wide (101.5mm With Flange)
82.5mm High
The unique Wireless Goldtouch Semi-Vertical Mouse has been designed at an optimal angle of 66 degrees. This is the first ergonomic mouse to cater to those looking for the mid-way point between a full vertical mouse and a standard flat ergonomic mouse.
In addition to the unique angle of this mouse, it also comes with a removeable wrist flange / wing. This attachment operates in three ways, it prevents your hand from rubbing on your work surface (friction and discomfort avoided) and it also allows people with larger hands to get a better grip on the mouse. In addition, it also increases stability and mousing precision.
The unique functionality of the mouse doesn't stop there. The Goldtouch Semi-Vertical Mouse comes with a compartment built in to the bottom of the mouse that houses four 5 gram weights. Removing or changing the weights allows the user to find the ideal mousing weight for them.
Features
Semi-Vertical Mouse – 66 degree angle
Removeable wrist and palm flange
DPI controller button (1000, 1500, 2000 and 2500 DPI optical resolution)
Removable weights
Back and forward thumb clicks
Plug and play drivers
Wireless receiver included
Compatibility 
Windows 10, 8, 7
Winodws Vista, 2000, XP
Mac
Linux