EGOL BLUETOOTH WIRELESS MINI KEYBOARD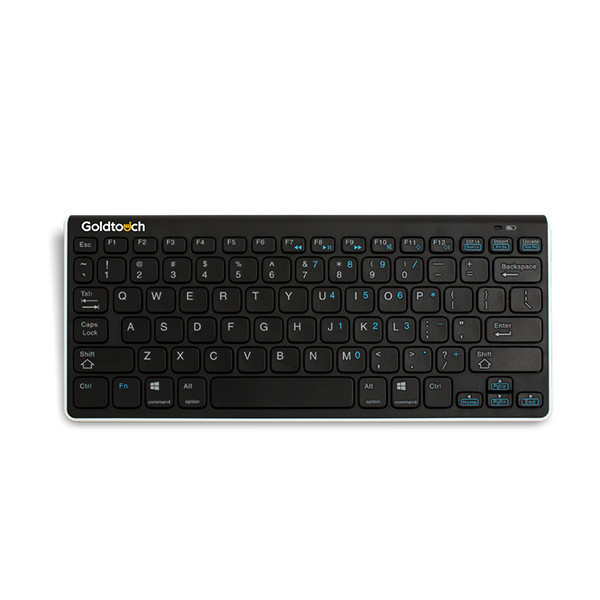 WIRELESS (BLUETOOTH) COMPACT KEYBOARD
GREAT FOR ON THE GO ERGONOMICS
SOFT TOUCH KEYS
260MM WIDE
The Goldtouch Bluetooth Mini Keyboard is the most compact ergonomic keyboard available.
260mm Wide
110mm Deep
20mm High
Weight: 260 grams
Equipped with Blue tooth wireless technology and soft-touch keys, the ultra-portable Wireless Mini Keyboard is compatible with all Mac and PC devices. From the office to the airplane, with the Mini Keyboard, you'll always have the technology you need to work effeiciently and without pain.
Compact keyboard that is portable and comfortable:
experience great ergonomic keyboard design at home, work or on the road. Four months of battery life powered by two included AAA batteries.A low power indicator lights up when your batteries are low, allowing you to change them before you're stuck in a situation where you can't use your keyboard.
Universally compatible:
This slim keyboard will work with all of your Bluetooth-enable Mac and PC devices, including your desktop, notebook, tablet, smart phone, Roku, Xbox, PS3, smart TV and other smart devices.
Transport with ease:
Just two centimetres thick and only 260 grams in weight, you wont even notice the addition of this compact wireless keyboard to your travel bag.
From the office to the train, enjoy ergonomic productivity with the Goldtouch Wireless Mini Keyboard.