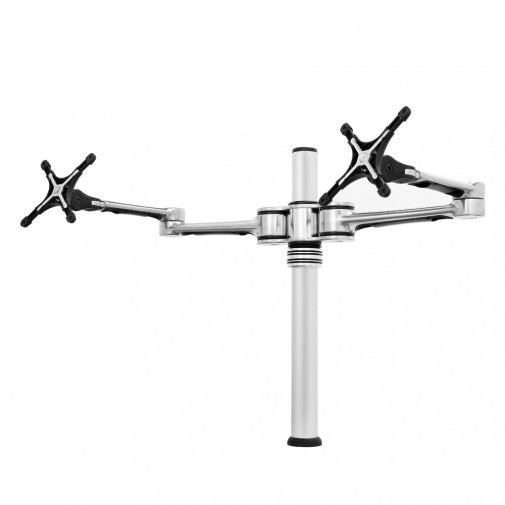 DUAL MONITOR ARMS
413MM MAX REACH
SUITS UP TO 27″ MONITORS
10 YEAR WARRANTY
BOLT THROUGH / DESK CLAMP
This Focus Double Monitor Arm consists of a desk mountable pole with two articulated display arms.
413mm Max Reach
Suits Monitors up to 27″
10 Year Warranty
The Focus Double Monitor arm provides a stylish, flexible and configurable mounting solution for office workstation, retail and home office applications.
The VF-AT-D consists of a desk mountable pole with two articulated display arms.
The Focus arms feature a three point articulated design which enables the monitors position to be extended, shifted to the side or set back flush with the pole. The arm can be rotated around the pole and the height adjusted through a simple twist and lock mechanism. It supports LED and LCD monitors weighing up to 8kg each and provides for tilt/pan adjustment as well as landscape to portrait screen rotation.
Integrated cable management and a sleek design ensure a neat and contemporary finish. The Focus range is designed for displays with a standard VESA mounting hole pattern. This model ships with display mounting hardware along with equipment for bolt-through and clamp style desk attachment.
Key Features
Flexible mounting:
* Pole ships with two display arms and will support a maximum total weight of 16kg (35lbs)
* Display arm is designed for screens 12″ (30.5cm) or larger weighing up to 8kg (17.5lbs) max each
* Suitable for attachment to desks 12mm to 38mm (0.5-1.5″) thick
* Features integrated cable management
Enhanced positioning adjustment:
* Articulated movement with three pivot points
* Max reach 413mm (16.25″)
* Allows full 360º rotation around pole
* Provides up to 413mm (16.25″) of display elevation with 345mm (13.5″) of adjustment
Easy to Install:
* Supports displays with standard VESA mounting hole configurations 75x75mm & 100x100mm (WxH)
* Shipped with installation guide and mounting hardware for bolt-through and clamp attachment
Durable Design:
* Die-cast aluminium arm with polished finish and toughened surface treatment.
* Extruded aluminium pole with high quality annodised (matt) coating
* 10 year limited warranty if purchased after Jan 1, 2011
*Wall Mount Version Available On Request