EEVO REDUCED REACH RIGHT-HAND KEYBOARD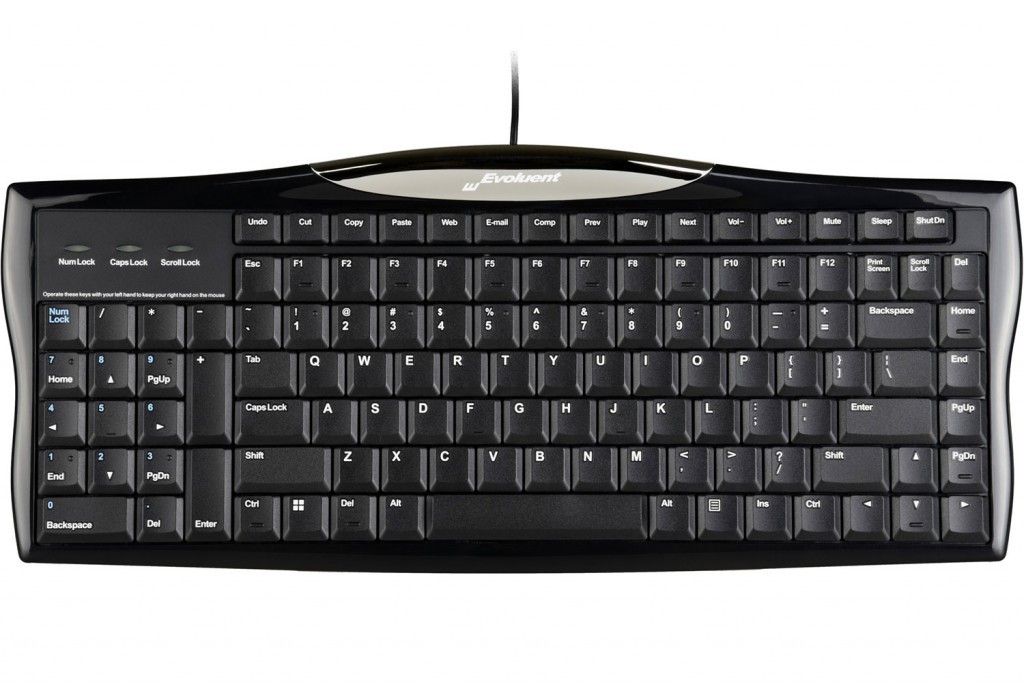 403MM WIDE
171MM DEEP
20MM HIGH
SLIM / COMPACT KEYBOARD
BUILT IN NUMERIC PAD
The Evoluent Reduced Reach Right-Hand Keyboard's numeric pad is is situated to the left instead of the traditional right hand side
403mm Wide
171mm Deep
20mm High
The Evoluent Reduced Reach Right-Hand Keyboard is the new and improved version of the famous Evoluent Mouse Friendly Keyboard. Known as a great alternative to a compact keyboard. The only difference is that it still includes a numeric pad, which is situated to the left instead of the traditional right hand side.
FEATURES AND BENEFITS OF THE EVOLUENT REDUCED REACH RIGHT-HAND KEYBOARD / MOUSE FRIENDLY KEYBOARD
▪ Eliminates stretching your arm to reach the mouse by having the numeric keypad on the left.
▪ Your mouse may be much closer on the right.
▪ Allows your right arm to be in a relaxed neutral position when using the mouse.
▪ Reduces the need to remove your hand from the mouse by allowing your left hand to operate Enter, Del, Page   Up, Page Down, arrows, and other keys in the numeric keypad on the left.
▪ Hot keys for one touch access to the Internet, e-mail, media player, volume control, standby, power off, and other functions.
▪ High quality, notebook computer-type key mechanisms with precision feel.
▪ Only 20 mm thick overall with ultra flat key caps.
▪ Full functionality in Windows XP, Win 7. Some hotkeys on top row may not work in other Windows versions.
▪ Works with Unix, and Linux except the hotkeys on the top row.
Not compatible with Mac.