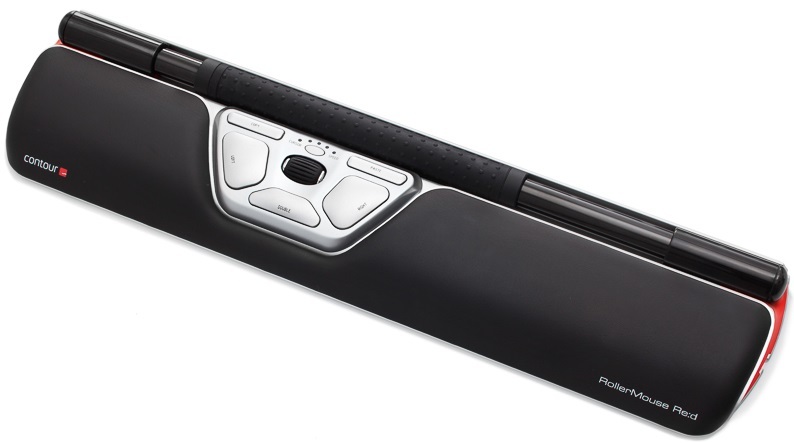 410MM WIDE
100MM DEEP
23MM HIGH
PC AND MAC COMPATIBLE
AWARD WINNING ROLLERMOUSE
TWO YEAR WARRANTY
The Contour Red ergonomic mouse is the top of the line roller mouse. It's central and flat position allows you to work safer, faster and more comfortably.
410mm Wide
100mm Deep
Comfortable built in wrist rest
Contour RollerMouse Re : d Experience unrivalled feel, speed and pinpoint accuracy from one good-looking ergonomic mouse.
Built-in precision
7SENSES™, new tracking technology inside the rollerbar, provides unmatched cursor precision and control. The position of the sensors, placed inside the bar, protect it from dust and dirt. 7SENSES™ tracks cursor position, constantly adjusting speed and acceleration to ensure the rollerbar is as central as possible, while intuitively adapting to your pace to decrease micro movements and increase efficiency.
Effortless control
Get more control and less strain with the bigger and better rollerbar. We've replaced the mechanical mouse click with a virtual click to remove force feedback and reduce the risk of unnecessary strain. This effortless digital mouse click combined with the thicker, textured rollerbar makes it is not only easier to handle, but also feel good.
RollerMouse DNA
RollerMouse, centrally placed in front of your keyboard, eliminates the need to grip or reach for the mouse, which can stress the neck, shoulders, elbows, and wrists. This optimal work zone corrects posture and prevents injury. Use the wrist rest, both hands, and vary your position to avoid discomfort. Simply a better way to work.
Choose your level of support
With RollerMouse Red plus or ArmSupport Red
Increase your palm support with RollerMouse Red plus or extend the support through your shoulders and forearm by adding an ArmSupport Red. The latest addition to the RollerMouse Red family, ArmSupport Red, clamps right onto your desk and aligns the upper body to reduce muscle strain in your neck, back, arms and wrists while sitting or standing. *purchased separately to the mouse*
Easy to use, right away
The new rollerbar is easier to use and even more precise. The larger surface gives you more control when pointing, rolling or clicking. It adapts to the individual, from professionals using CAD and other advance design programs to the average user. RollerMouse Red is compatible with Apple OSX, Apple Mac OS 8.1 or newer, Microsoft Windows 8/7/Vista/XP/ME/98 and comes with a 2 year warranty.