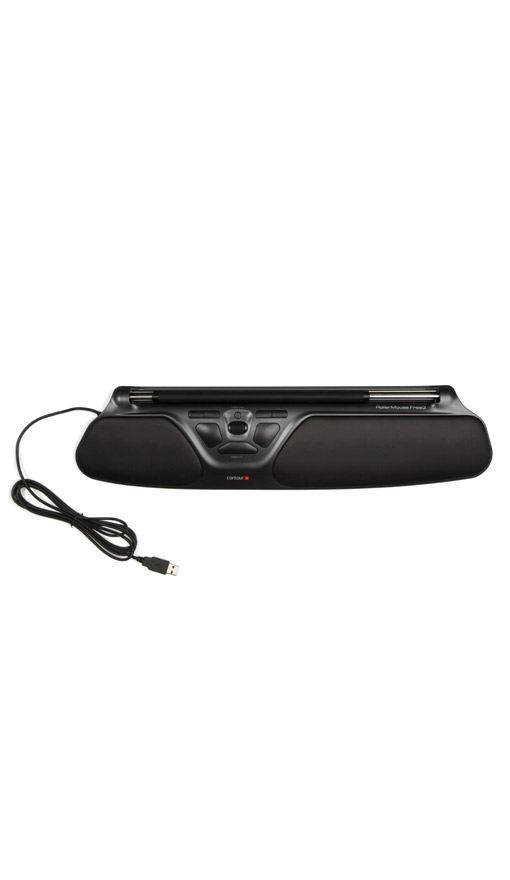 DESCRIPTION
The RollerMouse Free3 combines pinpoint precision and comfort with low profile design. Free3 is built low to the desk, making it ideal for use with slim, compact keyboards.
At just 25mm high, the RollerMouse Free3 boasts the lowest profile in the RollerMouse family, helping maintain a proper ergonomic position, in a new and sleek modern style which is perfectly at home on a PC or Mac.
The high cursor speed lets users move the cursor easily and efficiently across large screens – or even multiple monitors. The broad rollerbar makes it simple to vary work posture.
Simply put, you can work faster and more comfortably.
FEATURES
RollerMouse Free3 offers greater cursor speed selection than its predecessor; ten speeds range between 600 and 2800 dpi, making it ideal for modern multi-screen workstations.
Free3 has two new buttons, pre-programmed for page forward and back, bringing the total buttons to 7, compared to the previous 5, meaning less reaching for your keyboard for common tasks.
A fully open rollerbar design, combined with a new advanced bracket support, allows for more room to move and optimal control, giving you the ability to accurately and speedily navigate around your computer screen.
An advanced sensor located underneath the rollerbar allows for more precise cursor movements without changing the feel, and improves on the already excellent reliability of the Rollermouse family
SPECIFICATION
| | |
| --- | --- |
| Weight | 0.68kgs |
| Width | 49cm |
| Depth | 12cm |
| Colour | Black |
| Scroll wheel | Yes |
| Buttons | 7 programmable buttons |
| Sensor type | Twin-eye laser |
| DPI | 600/ 800/ 1000/ 1200/ 1400/ 1600/ 1800/ 2000/ 2400/ 2800 |
| Operating system | OSX, Windows |
| Plug & Play | Yes |