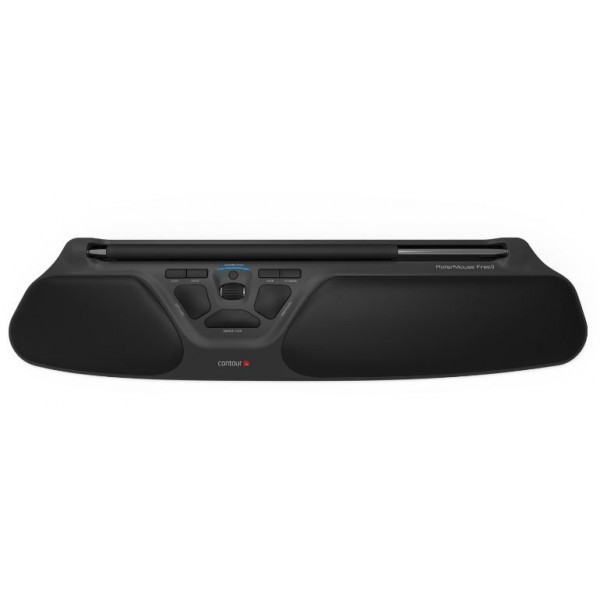 440MM WIDE
150MM DEEP
19MM HIGH
PC AND MAC COMPATIBLE
IN-BUILT WRIST REST
 The Contour Free 3 ergonomic mouse is placed right in front of you. This central and flat position allows you to work safer, faster and more comfortably.
440mm Wide
150mm Deep
PC and Mac Compatible
The Free2 is no more! Say hello to the intuitive, slim and modernised upgrade, the Free3. Its design is inspired by users and ergonomic experts. It's an ultra-low ergonomic mouse alternative that is placed right in front of you. This central and flat position allows you to work safer, faster and more comfortably. RollerMouse Free3 offers complete freedom, functionality and flexibility. The Free3 brings greater precision with a newly designed rollerbar sensor. It also adds two new buttons (8 buttons / fucntions in total) that defualt to forward annd back within most internet browsers.
A better way to work?
1. Work safer and faster. Less physical strain and improved precision help you work more efficiently.
2. Get in an ergonomic position. Everything you need is placed right in front of you.
3. Two hands are better than one. Using both hands helps avoid discomfort and prevent pain by varying your position.
FEATURES
Made for your keyboard Use the keyboard risers to customize the height and angle of your keyboard to find the most comfortable typing position. The ultra-low and slim RollerMouse Free3 keeps your hands and wrists flat on a desk or table – the safest working position for your body.
Room for two The fully open rollerbar opening allows you to place several fingers, from one or both hands, parallel to each other. This improves control and precision while reducing and distributing the workload between the fingers.
Slim, flat and low RollerMouse Free3 is the lowest RollerMouse yet. Its 19.5 mm height makes it even easier to rest your hands and wrists flat on a desk or table. Working with flat wrists is the optimal ergonomic position for your body.
Rest your wrists Make movements comfortable and effortless with RollerMouse Free3 leatherette wrist rests. Our integrated wrist rest is ergonomically designed to keep your hands, wrists and forearms flat. The wrist padding is slightly higher than the rollerbar to avoid unwanted clicks.
Quick and easy cursor speed selection Choose between five cursor speeds ranging from 600 dpi to 2800 dpi for maximum precision. The speed increases by 200 dpi with a push of a button. Five lights above the triangular button indicate your current cursor speed. Tip: New users may want to start with low cursor speed. Once familiar with RollerMouse, we recommend selecting a higher cursor speed. For users with big screens, or multiple screens, the faster setting makes it easier to reach further with the same rollerbar movement.
Optical motion detector An optical sensor detects the cursor movement. It is placed at an optimal position to ensure consistent and reliable tracking. This predictability makes it easy for your fingers to move the cursor.
Choose the force Adjust the amount of pressure required to perform a mouse click. Use the click-force tension slider underneath RollerMouse Free3 to choose from soft to firm settings. Tip: New users may like to start with a firm rollerbar click. Those familiar with RollerMouse may find using a lower click force faster.
Keep it steady The keyboard risers are covered with rubber to keep your RollerMouse Free3 in a firm and steady position. The more fixed RollerMouse Free3 is on the table or desk, the easier it is for you to find the right buttons and maintain your preferred working position.
End detection If your cursor cannot move further, simply force the bar slightly to the right or left until you hear a gentle click. This activates the end detection and the cursor can move anywhere on the screen. Tip: If you're using multiple screens, the end detection function allows you to re-align the cursor position.