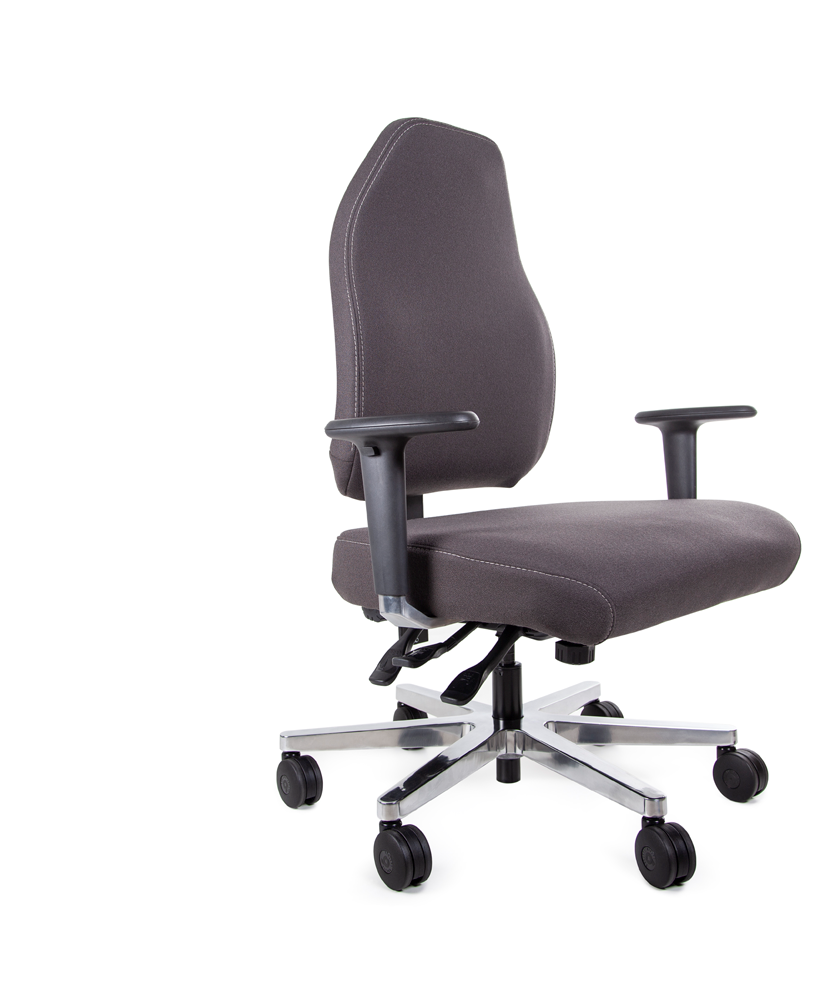 The SOFLEPO Elite Bariatric chair has features increased weight capacities, heavy duty supports and a wider seat and back.
flexi Bariatric offers the full SOFLEPO'Pre-Adjusted' Back Support System, on a strengthened chair and the exclusive HygroTEQ foam that provides excellent support and weight distribution that aims to assist with the reduction of pressure sores.
The SOFLEPO Bariatric can provide confidence when performing everyday tasks, as well as maintaining more independence, in and around the house or office environment.

Back Dimensions
High Back – H 610mm x W 500mm
Seat Dimensions
Maximum – D 520mm x W 700mm
SPECIFICATIONS
Seat Width                 : 700mm
Seat Depth                 : 520mm
Seat Height                : 460mm – 550mm
Back Height               : Highest 680mm
                                             Lowest 620mm
Back Dimensions     : Height 610mm
                                              Width 500mm
Arm Height Travel    : 80mm
Arm Pad Distance     : 680mm
Standard Gas               : 100/43
FEATURES
Pre-Adjusted Back Support
Widened Back
6 Star Heavy Duty Base & Castors
3 Lever Ergo – Heavy Duty Mechanism
HygroTeq Technology Seat Foam
Adjustable Back & Seat Height
OPTIONS
Heavy Duty Adjustable T-Arms*
Adjustable Lumbar Support
(Manual Air Pump)
Adjustable Headrest
SEAT MODIFICATIONS
Width Range: 500mm – 700mm
Depth Range: 400mm – 520mm
WEIGHT RATING 250KGS
WARRANTY 5 YEARS (Warranty based on 8 hour usage per day, 5 days per week)
Please note: Arms are an upgrade* 
***Please note due to a supplier shortage and delay with our carriers, all chairs that currently utilize the 6 Way Heavy Duty Polished Aluminium Base will be manufactured with our 6 Way Black Steel base.
The swap will be automatic and will not alter the structural integrity of the chair. 
IMPORTANT NOTE: The starting point of the seat height is approximately 40mm higher.***